Where were you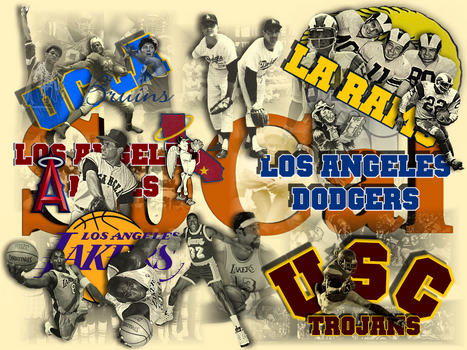 If you are a Laker, Dodger, Ram, SC or UCLA fan Horry's 3 pt shot, Gibson's HR, Vinnie to Waddy, OJ's 64 yard run and Edny's buzzer beater is all you need to know. You know what games they are.
---
Horry's shot
It was pure Hollywood.

With the Lakers down by two points Sunday with a second left, Robert Horry knew his place. What he didn't know was how he was going to get the ball.

Teammates Kobe Bryant and Shaquille O'Neal missed their shots, and Sacramento Kings center Vlade Divac tipped a rebound blindly away from the basket.

Then came something right out of the movies: The ball headed straight for Horry, who grabbed it and made a 3-pointer as time expired to rally the Lakers from a 24-point deficit and a 100-99 victory.

The win tied the Western Conference final at 2.

"I wanted the 3 all the way," Horry said. "I stayed right where I could get it. When it came rolling out, it was like, 'Oh, look what I got.' "

Game 5 is Tuesday in Sacramento.

Horry scored 11 of his 18 in the fourth quarter for the Lakers in a game they badly needed to keep their championship hopes alive. They made it as dramatic as possible, falling behind early by double digits once again.

But nobody in the Lakers' locker room was overly surprised by the blind tip by Divac that put the ball in Horry's hands. After two straight championships and more dramatic finishes than they can count, the Lakers expect fortune to smile on them.

"I didn't draw it up like that, so don't ask me," Lakers coach Phil Jackson said, grinning. "But we got the shot we wanted."

The Kings led by eight with less than four minutes left, but Horry pulled the Lakers within three with a 3-pointer with 1:39 left. O'Neal, who finished with 27 points and 18 rebounds, hit two free throws to make it 98-97 with 26.9 seconds left.

Divac made one of his two free throws with 11.8 seconds to play. In the final seconds, Bryant missed a layup and O'Neal missed a putback, but Divac swatted the rebound out to Horry, who buried the straightaway shot.

Horry hit the final shot, but an outstanding second half of defense kept the Kings from grabbing control of the series.

"Just a lucky shot, that's all," said Divac, who had 23 points. "You don't have concentration. He just threw it up."

"It's the luckiest thing I've ever seen in my life," Kings forward Hedo Turkoglu said.

It wasn't Horry's first time as a long-distance postseason star. In Game 3 of last season's NBA Finals, his 3-pointer with 47 seconds left finished off Philadelphia.

In this season's playoffs at Portland, he hit a decisive 3-pointer with 2.1 seconds left. In the conference semifinals against San Antonio, Horry's 3 with 56 seconds left helped the Lakers oust the Spurs.

Sacramento knows the Lakers have to return to Arco Arena, where the cowbells will be clanging Tuesday.

"It's huge," guard Bobby Jackson said of Game 5. "They're scared of us. We're playing well and we got a swagger about us. They got to find their game."

"This one should knock the cobwebs out," Horry said. "Hopefully we can go out (to Sacramento) and get some wins and get back to the old Laker basketball."

STOJAKOVIC CLOSE: Kings coach Rick Adelman said he wants to start All-Star forward Peja Stojakovic when he returns from a severely sprained right ankle, but his availability for Game 5 won't be known until after today's practice.
---
Gibson's HR
At one end of the Los Angeles Dodger dugout on Saturday night, the players could hear Kirk Gibson. He was at work up the runway, in the batting cage. Crack...clank. Crack...clank. Mitch Poole, the Dodger batboy, would put a baseball on the batting tee, and Gibson would send it clanking off the metal frame of the cage. Out on the field the Dodgers were down to their final three outs in Game 1 of the World Series. The Oakland Athletics held a 4-3 lead, and baseball's best reliever, Dennis Eckersley, was on the mound. Crack...clank. Crack...clank. Gibson paused, took a deep breath, looked up at Poole and said, "This could be our script." Gibson didn't elaborate. He put his head down and resumed swinging. Crack...clank.

When, with two outs, Eckersley went to 3 and 1 on pinch hitter Mike Davis, Dodger Tracy Woodson turned to teammate Mickey Hatcher and said, "If Davis gets on, wait till you see the crowd reaction." A puzzled Hatcher glanced out at the on-deck circle, where Dave Anderson, an unprepossessing utility in-fielder, was getting ready to bat for pitcher Alejandro Pena if Davis managed to keep the inning alive. Like the 55,983 fans in Dodger Stadium, Hatcher hadn't heard the sounds from the batting cage and hadn't noticed that by the time Davis went to bat, Gibson had appeared in a corner of the dugout, bat in hand.

When ball 4 sent Davis to first, Anderson turned back to the dugout, and the crowd erupted with the realization that this was one of those Hollywood moments: Gibson, half-man, half-beast, whose arrival as a free agent in February had so dramatically transformed the Dodgers, now limped toward the plate to face Eckersley.

Gibson wasn't even supposed to be able to limp. He'd re-strained his left hamstring in Game 5 of the National League Championship Series, and he hadn't swung at a pitch since compounding his woes by injuring his right knee in the seventh game of that series. He hadn't even been introduced before the game. (Debbie Gibson, who sang the national anthem, was, but Kirk wasn't.) And 20 minutes earlier he hadn't had his uniform top on. He'd been sitting in the trainer's room during the eighth inning when he'd heard Vin Scully tell the TV audience, "The man who is the spearhead of the Dodger offense throughout the year, who saved them in the League Championship Series, will not see any action tonight, for sure. [Gibson] is not even in the dugout."

With that, Gibson had slid off the trainer's table. "——it," he'd shouted, grabbing an ice bag for his injured right knee. "I'll be there."

And so he was, against Eckersley, "just the way it's supposed to be," he said later. "I live for these moments. I'm an impact player, and I love the added pressure of admitting it."

The crowd was on its feet, through three straight foul balls—the third one a dribbler down the first base line—and a backdoor slider that barely missed the outside corner; through Davis's steal of second on a 2-2 pitch; through drama stretched as tight as it could go, to a full count. Eckersley wheeled in with a slider, down but dangerously over the center of the plate. In Hollywood, Roy Hobbs hits the ball out to end The Natural, but on this night it was Gibson.

Welcome to the California World Series.

Gibson sent that slider far into the L.A. night, five rows up the bleachers in rightfield. He knew what he'd done the instant the ball exploded off his bat. He raised his arm and held it aloft until he reached first base coach Manny Mota. Then he limped around the bases as if he were straggling home from the Russian front, dragging his right leg and stepping gingerly on his left. His home run hobble was probably the slowest passage around the bases of all time, and it stood in stark contrast to Hatcher's first-inning scamper around the diamond, then noted as the fastest in World Series history. While Gibson was mobbed at home plate by fellow Dodgers, bullpen coach Mark Cresse sneaked away and put a sign over the slugger's locker that read ROY HOBBS.

It seemed perfectly appropriate that a taped guest appearance by L.A. manager Tom Lasorda would air on The Magical World of Disney the day after the Dodgers' 5-4 Game 1 victory. And the fairy-tale endings didn't stop there, for no sooner would Lasorda's Disney guest spot end on NBC (at least for viewers in the East) than the Dodgers' Orel Hershiser would appear on the same network to give another of his performances right out of the Magic Kingdom. He put underdog L.A. ahead two games to none by shutting out Oakland 6-0, with a brilliant three-hitter.

Hershiser was on a roll the likes of which no pitcher—not Koufax, not Drysdale, not Mathewson—had ever known. Including his Game 2 whitewashing of the A's, he'd allowed just three earned runs in his last 92⅔ innings (a 0.29 ERA). He'd thrown seven shutouts in 10 starts spanning the stretch run of a divisional race, a league playoff series and now the beginnings of a World Series (and that's not counting 10 scoreless innings he pitched in a no-decision on Sept. 28). But as masterful as Hershiser was, it was Gibson's blast that made this World Series seem the stuff of Hollywood drama.

For the supposedly invincible Athletics, the loss in the Series opener was a stunning blow. The game had been typical of the A's 108-win season, with a strong performance from starting pitcher Dave Stewart, a big homer—in this case a second-inning grand slam by Jose Canseco—and a ninth-inning lead for the Eck to protect.

"Hopefully it woke us up," said Eckersley. "We know now it's going to be a long, tough Series."

Besides giving the A's a new perspective, the dramatic events of Game 1 put all the pre-Series hype back in the can. In the two days before the opener, the media had fueled a war of words between beleaguered Dodger reliever Jay Howell and Oakland's sometime DH Don Baylor, who accused Howell of having no guts. (Never mind that Baylor may have been trying to deflect media scrutiny and pressure from the A's young sluggers Canseco and Mark McGwire.) And while reporters were busy creating fresh beefs, hardly anyone recalled an old one: Jim Lefebvre, the A's third base coach and a former Dodger of long standing, once had a fistfight with Lasorda in a television studio.

The Lasorda-Lefebvre relationship was typical of the most important subplot of this Series: A lot of the Dodgers are former A's, and a lot of the A's are former Dodgers. In Game 1, ex-Dodger Stewart would start against ex-Athletic Tim Belcher, and each of them had once been traded for Rick Honeycutt, now a member of the A's bullpen. The Athletics sent the hard-throwing Belcher to L.A. for Honeycutt in August 1987, because they figured it would take Belcher two years to improve his control enough to make the majors. But throwing strikes was never a problem for him with the Dodgers—until Saturday.

He delivered 71 pitches—33 of them balls—during his two-inning stint and set off a beanball battle when he tried to get a heater in on Canseco in the top of the first and plunked him on the arm. (Stewart sent his old teammates a clear message to stay away from Canseco by drilling Steve Sax with the first pitch when the Dodgers came up in the home half of the first. Home plate umpire Doug Harvey promptly defused the situation by warning both teams that the next brushback pitch would result in an automatic ejection of that club's pitcher and manager.) "That was the worst control I've had since I was in Tacoma," said Belcher, referring to the fact that he walked nine in one of his last starts for Oakland's top farm club before being shipped to the Dodgers. (His opponent in that game? Why, the Dodgers' Albuquerque farm club, of course.)

Though Belcher would lose this battle with Stewart, the exchange of hit batsmen handed the Dodgers a short-term advantage. "When Sax gets on base, the next two hitters get nothing but fastballs because Steve is such an aggressive base runner," said Dodger hitting coach Ben Hines. Indeed. Sax danced off first, prompting Stewart to balk, and with one out Hatcher got hold of one of those preordained fastballs.

Wait just a minute! Hatcher hitting No. 3 in the World Series? This guy wasn't in last year's World Series because the Minnesota Twins, figuring he was washed up, had released him. He'd hit all of one home run in 191 at bats for Los Angeles during the 1988 regular season. But he ripped Stewart's pitch over the fence in left center and proceeded to charge around the bases as if he were returning a kickoff—which wasn't all that surprising, since Hatcher used to play on special teams for Oklahoma (see box, page 43).

The Dodgers' 2-0 lead didn't last long, because after Glenn Hubbard singled to left in the top of the second, Belcher was so wild that he walked Stewart, who was hitting for the first time in five years. Carney Lansford then reached base on a walk to set the stage for Canseco's grand slam, a bullet of a line drive to centerfield.

"By the time I turned around, it had already ricocheted off the TV camera," said Belcher. That camera was beyond the fence, 415 feet from home plate.

Almost forgotten in the face of the Gibson histrionics, in fact, was Canseco's flair for October dramatics. In Oakland's first five postseason games he hit four homers, all of which either tied the score or put the A's ahead. Hollywood Jose has big-time style too. Against Belcher he crushed the ball, looked up and flipped the bat away as if he were discarding a chicken bone, and then began a strut around the bases.

To set the stage for Gibson's appearance, the Dodgers got seven shutout innings from relievers Tim Leary, Brian Holton and Pena. Leary had two on and none out in the third and escaped. Dave Henderson doubled to lead off the fourth but committed a baserunning gaffe: He got tagged out between second and third when Canseco sent what seemed certain to be an infield hit deep in the hole at short. In the sixth Stewart gave up a run on three singles but avoided further damage by inducing Jeff Hamilton to bounce to Lansford, who started an inning-ending double play.

So they went into the ninth inning, A's 4, Dodgers 3. In the seventh, former Athletic Alfredo Griffin—whose nickname is El Brujo (the sorcerer)—had predicted to Dodger teammates Mike Sharperson and Fernando Valenzuela how it would end, with Gibson homering off Eckersley. "Eckersley will look around, realize he's back in a National League park, and the [Chicago] Cub will come out in him," Griffin had said.

It was during the inning after Griffin's prophesy that Gibson heard Scully write him out of the script. That seemed logical enough. There was no sign of Gibson, after all, and that afternoon he'd been given injections of cortisone and Xylocaine for the sprained ligament in his right knee.

"I jammed an ice bag on my knee and pulled on my uniform top," said Gibson, who asked Hines to get him a batting tee. Hines found one and told Poole to put the balls on the tee for Gibson. "We didn't want him bending over and hurting himself," Hines said later. After he'd hit about half a bucket of balls, Gibson said, "I told Mitch to go down and tell Tommy [Lasorda] that if someone got on, I wanted to try to hit." Lasorda came up the runway, and Gibson told him he was ready. "As soon as he heard that I wanted to hit," Gibson said, "he took off. I never got a chance to say I think...."

Gibson admitted later that he had no idea how he would feel once Scully's words inadvertently incited him to action. "I tried to swing a bat in my living room in the morning and couldn't do it," he said. "But once I got up in that cage, I didn't feel anything again until I was going around the bases."

Davis, another Oakland refugee, became a central player in the final act. One thing the Dodgers wanted to do against Eckersley was step out of the batter's box and force him to disrupt his rhythm. Davis did just that, stepping back, calling time. "The guy's hitting a buck ninety—what the hell's he doing calling timeout?" Eckersley said later. Davis accomplished his purpose: He infuriated the Eck and coaxed a base on balls from a pitcher who had allowed only nine unintentional walks all season.

Lasorda had sent Anderson into the on-deck circle as a decoy. "I figured Eckersley would pitch more carefully to Davis with the righthander on deck," Lasorda said. "If he'd seen Gibson, he would have pitched Davis differently."

Eckersley's first two pitches to Gibson were in the strike zone. Gibson fouled off both. The third delivery was a hard sinker, the one that Gibson dribbled down the first base line. But as he dragged himself out of the batter's box, it trickled foul. Then Eckersley tried to sweep a slider that would come back and catch the outside corner. "That was the key pitch, because I was able to stay back, lay off it," said Gibson. "And it just missed the strike zone."

After Gibson fouled off another pitch and Eckersley threw outside for ball 2, Davis stole second. "That was important for me, because then all I had to think about was shortening my swing and trying to get a hit to score him," said Gibson. Then came the slider. "It was dumb," said Eckersley. "It was the one pitch he could pull for power. He hit the dogmeat out of it."

A Series that began with a distilled Hollywood moment—baseball the way television wishes it were—continued the next night with baseball as it really is, a game that at its best unfolds with protracted drama. After a five-run Dodger third inning on Sunday night, the drama was not in the score. The question was whether Hershiser could continue the brilliance he'd maintained for a month and more. The answer was clear: He was in command from first pitch to last and ended up with yet another shutout. For good measure he threw in three hits of his own, two doubles and a single, thus becoming the first World Series pitcher to have as many hits as the opposing team since the New York Yankees' Don Larsen had none in his 1956 perfect game against the Dodgers. (And because Oakland's attack consisted of three Dave Parker singles, Hershiser also had two more total bases than the A's.) "Orel's been held back because he looks like a librarian," says his catcher, Mike Scioscia. "But who's ever done anything like this?"

And who's done anything like this unlikely pair, Hershiser and Gibson? Gibson is an instinctive, almost brutal player. Hershiser uses a computer to make notes on each of his starts. He pulled the piece of paper containing the Dodger scouting report on the A's—what he called his cheat sheet—from his back pocket before the first inning of Game 2 and showed it to home plate umpire Durwood Merrill and crew chief Harvey. "I didn't want them thinking I was cheating if I pulled it out during the game for some information on a hitter," said Hershiser.

What Hershiser and Gibson have in common is superb athleticism. "To maintain such a high level of consistency takes unbelievable coordination, great athletic ability," says Scioscia of Hershiser. "Look at all the things he can do."

Hershiser got the Dodgers going in the third inning against Oakland's Storm Davis by faking a bunt and then slapping a single through the middle, a move he'd worked on for several minutes during batting practice that day. He went from first to third on a single by Sax to key a rally that culminated in Mike Marshall's three-run homer. When Hershiser later added his two doubles, he became the first pitcher in 64 years to have three hits in a Series game.

"The shutout was satisfying, but the hitting was a thrill," he said. "This is the World Series, and I want to hit, go first to third, steal bases, break up double plays...."

That comment made Lasorda, who was sitting nearby, cringe. With Gibson hurt, the last thing he needed to worry about was a baserunning injury to his ace. After all, Hershiser was already pitching with far less rest than usual.

"If I threw a screwball or a zillion pitches, it would be one thing," Hershiser said. "But I'm basic. I get a lot of quick innings. I don't go deep into many counts. I don't worry about what will happen down the road. I may never be through anything like this again in my life, so I'm going to roll with it and enjoy it. I know my arm, and I feel great. If something happens, well, there's life after baseball. But I'm not sacrificing what we've got our hands on to think about how many years and how much money I have left. I was raised to throw properly."

The parents who reared him that way—his father, Orel III, and his mother, Millie—were on hand to throw out the first pitch of Game 2, lending another made-in-Hollywood touch to this World Series saga, one in which Gibson and Hershiser combined to provide a storybook beginning.
---
Vinnie to Waddy
The Los Angeles Rams, who have never gone to a Super Bowl, eliminated one of the major reasons why - the Dallas Cowboys - Sunday in the magical type of comeback the Cowboys thought they had patented.

It was third-year quarterback Vince Ferragamo's 50-yard touchdown pass with 2:06 remaining that cooked the Cowboys 21-19 and put Los Angeles in the National Football Conference title game next Sunday on the road against Tampa Bay.

The Cowboys appeared to be ready to make their eighth NFC title appearance of the decade. Then Ferragamo, who was third string in training camp, pulled off a Dallas-type "miracle" with his perfectly timed shot to Billy Waddy. "When I dropped back. I saw the deep zone coverage and got the ball behind the linebackers," said Ferragamo. "I had told the team in the huddle that this was our last effort and so please make it a good one. We hung in there and pulled it out." Rams Coach Ray Malavasi, who has seen

Dallas knock the Rams out of the playoffs three times since 1973, said, "This is one of the best wins I've ever been around since I've been in football." Malavasi said he concocted a seven defensive back secondary to "match speed with speed. Our defensive coordinator, Bud Carson, came up with idea.

It was very effective." Malavasi was still steaming over a fourth-quarter call in which official overruled a pass-interference flag thrown by another that cost the Rams possession deep in Dallas territory. "That was a real bad call, there was interference. Overruling was ridiculous and I'll probably end up getting fined but I don't give a damn." Dallas Coach Tom Landry said, "The Rams played one of their better defensive games. They mixed defenses up on third down and kept us off balance fairly well. He added: "I said before the game everybody has a chance to make it to the Super Bowl because it's that kind of year." Dallas defensive back Larry Cole summed up how his team felt. "All year we let the big plays get away from us, and that's what did us in today." Ferragamo, who had thrown two touchdown passes in the first half, but was burned by two second-half interceptions, stole a page from Roger Staubach's book on last-minute heroics. Waddy ran a post pattern across the middle and snared the pass at the Dallas 27 behind the outstretched hands of two linebackers. He then outran safeties Dennis Thurman and Cliff Harris down the left sideline to score standing up. It hushed the sellout crowd of 64,792.
---
OJ SIMPSONS 64 YARD TD
Here is the way it was in that college football game last week for the championship of the earth, Saturn, Pluto and Los Angeles:

UCLA's Gary Beban had a rib cage that looked like an abstract painting in purples and pinks, and USC's O. J. Simpson had a foot that looked like it belonged in a museum of natural history, but they kept getting up from these knockout blows, gasping, coming back, and doing all of their outrageously heroic things.

So, do you know what?

In the end, the difference in the biggest game of the 1967 season and one of the best since the ears of helmets stopped flapping, was that this guy with a name like a Russian poet, Zenon Andrusyshyn, couldn't place-kick the ball over this other guy with a name like the president of the Van Nuys

Jaycees—Bill Hayhoe. And that was the contest. Andrusyshyn would try to side-boot a field goal or extra point for UCLA, and Hayhoe, who happens to be 6'8", would raise up. The ball would go splat, plink or karang. The last time Hayhoe did it, he tipped the leather just enough to make the Bruins fail on a precious conversion, and USC got away with a 21-20 victory in a spectacle that will surely be remembered for ages, or at least as long as German-born, Ukrainian, Canadian-bred soccer-style kickers play the game.

Of course, it is not exactly fair to insinuate that Zenon Andrusyshyn, the German-Ukrainian-Canadian, was the goat of the whole desperate afternoon. Though only a sophomore, he is a splendid kicker who boomed punts into the California heavens all day, and it appears that if the ball is given time to rise, he is capable of place-kicking one more than 60 yards. Rather, it is more accurate to give credit to USC's John McKay for one of those little coaching touches that sometimes supplies a subtle edge. This time it proved to be a subtle edge that gave McKay the most important game of his life.

"We knew he kicked it low, so we just put the tallest guy we had in there on defense," said McKay later, in what may have been the happiest dressing room since showers were invented. "We told the kids it wasn't so important that they bust through and make him rush the kicks as it was just getting to the scrimmage line and raising their arms high."

In his wry, twinkling way, McKay then lit a cigar and said, "I call that brilliant coaching."

Everything about the day was brilliant, of course—as more than 90,000 limp souls in the Los Angeles Memorial Coliseum certainly noted, and as millions of others watching on national television must have, too. Led by those folklore characters, Gary Beban and O. J. Simpson, both teams played extremely well, considering the slightly barbaric circumstances. Not only was the national championship quite probably at stake, but so were a few other odds and ends, such as the Rose Bowl bid, the Pacific Eight title, the Heisman Trophy, some All-America trinkets and a couple of coaching reputations. That both squads and staffs went into the gnawing pressure of this kind of Saturday with such poise was unique enough. But that they also managed to litter the premises with so much brilliant play was downright against the rules for games of the century, era, decade, year (choose one). There can only be one reason why the Trojans and Bruins responded so well to the occasion, and it is that they are, quite simply, the two best teams in the U.S. this season.

Some of the big stakes in the game were indeed decided by that one-point margin, which is growing fatter by the hour. USC's 9-1 record measured against the quality of its schedule makes the Trojans the most deserving team for all the No. 1 cups and saucers. The Trojans are also in the Rose Bowl, where they apparently are going to meet Minnesota and certainly not Purdue, thanks to an idiotic Big Ten rule. Some things obviously were not settled last Saturday, however, like, for instance, the individual duel between UCLA's Beban and USC's Simpson.

Although neither player was 100% perfect physically, both were superb in clutch after clutch. While he practically had to crawl to the sideline no less than five times to regain his breath because of his injured ribs, Beban whirled the Bruins to three touchdowns, passing for more than 300 yards, giving his team a 7-0 lead in the first quarter, a 14-14 tie in the third and a 20-14 lead in the fourth.

Meanwhile, Simpson, his right foot throbbing inside a shoe with a special sponge cover, wearily hobbled away from piles of brutal tacklers and eventually managed to race for a total of 177 yards, including the touchdowns that put the Trojans ahead 14-7 and finally 21-20.

Had the Heisman Trophy award, therefore, really been decided by a couple of young men named Zenon Andrusyshyn and Bill Hayhoe? As Jim Murray of the Los Angeles Timessaid, 'They should send the Heisman out here with two straws."

There had been an agonizing wait for this game. It began when USC climbed to No. 1 after its third win, and the agony increased when the Bruins eased up to No. 2 for a few weeks. Ironically, big-game lime found Prothro's Bruins in No. 1 and McKay's Trojans two deep breaths below. Oregon State had caught USC sagging under the burden of No. 1, and on a muddy field at a perfect psychological time and—with not too bad a team, of course—had scored a 3-0 upset. All this made last week's pregame rituals of special significance. As unusual as anything else was the fact that UCLA was on top of the polls but USC was a three-point favorite.

McKay and Prothro honed their teams quite differently for the big one. The Bruins worked shorter hours, for one thing. Zip, zip, zip. It was as if Prothro was trying to conserve their energy. On the last warmup day, Friday, his team was out only seven minutes in contrast to USC's hour and a half. Across town, the Trojans ran more. Lots of wind sprints at what McKay calls "party time," which is a sort of postpractice session. The defense especially ran more than normal, and it is worth noting that USC's defense was fresher at the end of the game. All of those Trojans who were chasing, and catching, Gary Beban there at the finish—Ends Tim Rossovich and Jim Gunn, who was in action despite torn ligaments suffered earlier in the day, Tackle Willard Scott, Linebacker Adrian Young and Halfback Pat Cashman—looked capable of playing another two quarters.

It was obviously more necessary for USC to win the game than UCLA. Prothro had beaten McKay the last two years, for one thing. Not only that, a feeling had emerged in the minds of many, much to McKay's anger, that Prothro had won with guile, wisdom and genius rather than athletes.

"Well," said McKay sharply one day, "we pushed 'em all over the field in 1965, but we fumbled on their one, seven and 17. I guess he planned that."

Anyhow, McKay was grim. Uncharacteristically grim. And USC, the team that is normally loose, was grim and quiet, right up to an hour before the start. The Trojans looked tense enough to fumble at least 10 times, but O. J. Simpson argued differently.

"We're just mad," he said.

Nor was UCLA in the emotional frenzy that has been its most commonly displayed trait. The Bruins were quiet, too, concentrating. Gary Beban was told that O. J. said USC was mad, and Gary, Mister Cool, said, "Anger doesn't win football games."

For almost the first 20 minutes it looked as if UCLA was the only team in the Coliseum. The Bruins were a lot quicker in the line, niftier in execution, more confident in their game plan, and more inventive in their attack. Beban had thrown the first of 16 completions to his left end, Dave Nuttall, who would catch seven, and he had gotten 11 big yards on a keeper, and he had led the interference for Greg Jones's blasting 12-yard touchdown run, which put UCLA out front. At the same time, the Trojans had not been able to move. In five possessions they had not scratched out a first down. On his first 10 carries, even behind an occasional and surprising eight-man line that McKay thought would unsettle Prothro, O. J. Simpson had gained only 11 measly yards. He had come no closer to breaking clear than Andy Williams, who was there to sing at half time.

The situation looked normal; Prothro had McKay's number, just as everyone had been saying at The Daisy, The Factory, La Scala and Stefanino's before diverting conversation back to who got which part in what TV series. It was normal except for one thing: USC did not have any yards or first downs, but it had seven points.

On the last play of the first quarter, just as it looked like Beban was cranking up the Bruins again, the UCLA quarterback threw a pass at midfield into the wide left flat. The receiver was open, as Bruin receivers were all day, but the ball hung. It may have hung because Beban's side, injured in the Washington game the previous week, prevented him from slinging the ball hard when he had to. It may have hung because he misjudged the risk of an interception. Whatever the reason, USC's Pat Cashman saw it coming. He darted in front of Greg Jones, leaped and took the ball with nothing but 55 yards of beautiful, unpopulated Coliseum turf before him.

"I called the play," Prothro drawled later on. "It's a new one. He's supposed to roll one direction, turn and throw blind, hoping no defender's there. It's a stupid play. I'll never use it again."

While Pat Cashman's interception perked up the USC rooters—hundreds of whom, like UCLA's, had been in the stands since dawn to get good seats—it did not seem at the time to be all that important; it might hold down the score, maybe. Sure enough, after a wiggly, 42-yard punt return by UCLA's Mark Gustafson, the Bruins were quickly threatening again, with a first down on the 15.

But now a series of strange things happened that changed the game for the rest of the day. In three plays the Bruins got nowhere, and on the third one Beban got the first of the deadly blows in the ribs—this one courtesy of Pat Cashman—which would send him writhing toward the sideline. Andrusyshyn came in and missed a field goal from the 20. The kick was not one of those molested by Bill Hayhoe; Zenon simply side-winded it off to the left. And on USC's first play from its own 20, the game suddenly had another offensive team. Earl the Pearl McCullouch started it by streaking down the sideline off a daring reverse for 52 yards. McCullouch then caught a 13-yard pass. And now Simpson was warmed up. From 13 yards out, O.J. burst over guard for the touchdown—one that was especially vital, for it proved to the USC offense that it could move the ball.

Still, if UCLA was impressed it did not act it. The Bruins took the kickoff amid the most noise since D-day, and Beban promptly threw a 48-yard pass to Nuttall. It was first down on the Trojan 15 again. But, just like the time before, USC's defense got riled. Beban was smacked by everybody but Southern California President Norman Topping, one of nine losses he would suffer, and he had to retreat to the bench again. In came Andrusyshyn for the first of two field-goal tries that Bill Hayhoe would block.

As has been said so many times about Beban, he learns from mistakes. He could hardly wait for the second half to start to take advantage of Pat Cashman, who had intercepted him and who had buried his red USC headgear into Beban's lung. With only two minutes gone in the third quarter, Beban laid a perfect 47-yard pass into the hands of Halfback George Farmer for the tying touchdown.

"Cashman had been waiting for another of those flat passes, so we sent Farmer straight down, right past him," said Gary afterward. "It balanced out. Cashman's interception was really responsible for our second touchdown." Between this score and the one that put UCLA ahead early in the fourth quarter, Prothro's team blew another excellent opportunity. The combination of a poor punt by USC's Rikki Aldridge, who redeemed himself for this and all other misdeeds of a lifetime by ultimately kicking the game-winning conversion, and a Beban pass put UCLA on the Trojan 17. It was here that Hayhoe, a junior from Van Nuys who weighs 254 along with his 6'8", lumbered through to drop Beban for a whopping loss, and two plays later he blocked another field-goal attempt by the Ukrainian.

"Those things somehow weren't as discouraging then as they are now," said Beban later as he wandered around in the USC locker room, sipping a canned Coke, smiling and congratulating the Trojans. "We knew we would score again."

They did. Beban hit four passes in a brisk seven-play drive covering 65 yards, the last one going to Nuttall for 20 yards and the touchdown that made it 20-14 with only 11 minutes remaining. Andrusyshyn missed the point because Hayhoe had gotten a finger on it, and while it occurred to everybody in the Western world that this could be a pretty unfortunate point to miss, UCLA still looked like the better team. The Trojans had not seriously threatened. Junior Steve Sogge had given way to senior Toby Page at quarterback, and it was no Los Angeles secret that John McKay's wife Corky was a better passer than Page. Nor had O.J. really busted loose.

But now it was time for Simpson to get back in the Heisman derby, thanks to a thing called 23-Blast. UCLA's tough tacklers had been kindly helping O.J. back up on his feet all day, a fine sporting gesture with the subtle design of keeping Simpson from resting. And at last it was time for O.J. to knock them down. And out.

It was third down at his own 36 when Toby Page saw UCLA's linebacker move out, anticipating the play Page had called in the huddle. Page checked signals and called another play at the line. It was 23-Blast. As it unfolded, it looked like a five-yard gain. Guard Steve Lehmer and Tackle Mike Taylor cleared O.J. through the hole. Then Simpson veered out toward the left sideline. Oh, well, a 15-yard gain and a first down. But End Ron Drake screened off UCLA's halfback, and the safety sucked over, and, hey, what's this? O.J. angled back to the middle, to his right, and a great glob of daylight became visible. And then he was running like the 9.4 sprinter he is, despite that sore foot and that funny shoe, and there was not anybody down there for the rest of the 64 yards who was about to catch him.

Of the remarkable 1,415 yards Simpson gained this season, those 64 were the most impressive of all, for they came after two hours of the toughest punishment he had endured—and they stretched all the way to Pasadena and Number Onesville.

About an hour and a half after the game, down in the USC dressing room, which had finally emptied and grown as quiet as it had been before the kickoff, a brief scene was enacted that served as a fitting epilogue. Dressed now, blazers on, hair combed, refreshed, Gary Beban and O. J. Simpson met, looking like two young men anticipating a fraternity council meeting.

"Gary, you're the greatest," said O.J. "It's too bad one of us had to lose."

"O.J., you're the best," said Beban. "Go get 'em in the Rose Bowl."

O.J. grinned. Presently, he ambled down the hall, through a door and up a walkway to an exit gate where clusters of USC fans were still gathered. It was roughly, oh, about 64 yards.

The 1995 NCAA Basketball Tournament will always be remembered for UCLA's Tyus Edny's coast to coast layup to win the game for UCLA and allow UCLA to win the National Championship in 1995. The Cheering after that game lasted a full ten minutes.

It was a huge wake up call for UCLA. The Bruins did not have another close game the remainder of the tournament to claim their 11th Basketball National Championship.

Bobby Knight and his Indiana team were back in Boise and after they were upset by Missouri in the first round, Coach Knight verbally abused one Rance Pugmire, a volunteer news conference moderator. The Coach Knight tirade was picked up by the national media and gave Mr. Pugmire (who went on to become the Athletic Director at Utah State ) his 15 minutes of fame.

All the higher seeded teams won in the first round with Missouri edging Indiana 65 to 60, UCLA stomping little Florida International 92 to 56, Mississippi State beating the Santa Clara Broncos 75 to 67, and Utah pulling away from Long Beach State 76-64.

In the second round, Mississippi State upset the higher seed Utah 78 to 64, much to disappointment of the pro-Utah crowd. Then Tyus Edny made history for UCLA as the Bruins edged Missouri with his last second layup 75 to 74.
---