Greatest decade in Ram History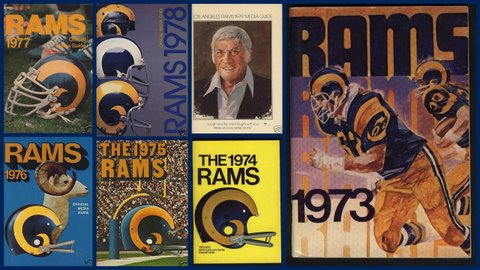 The decade of the 70's for me was the best time to be a Los Angeles Ramfan. The Rams in the 70's had the greatest owner in Carroll Rosenbloom and the greatest NFL GM in Don Klosterman. They built one of the greatest teams ever from 1973 thru 1979.Winning an NFL record 7 straight division championships.
1970 LOS ANGELES RAMS Playoff Bowl Victory over Dallas in January heads Rams toward their 25th year in Southern California. With the completion of the merger of the AFL and NFL, The Rams join San Francisco, Atlanta and New Orleans in the Western Division of the National Conference of the new 26-team National Football League. Rams finish second to 49ers with 9-4-1 record George Allen's contract is not renewed. Deacon Jones Merlin Olsen, Bob Brown and Eddie Meador are named All-Pro.
1971 LOS ANGELES RAMS On April-15 owner Daniel F. Reeves dies of cancer in New York. His longtime friend and business associate, William A. Barnes becomes President and General Manager. Tommy Prothro replaces Allen. Playing the toughest schedule in the NFL, the Rams finish with an 8-5-1 record, second to 49ers in the NFC West. Linebacker Isiah Robertson is lone All-Pro choice.
1972 LOS ANGELES RAMS In a history-making move, Baltimore Colts owner Carroll Rosenbloom trades the Baltimore franchise to Robert Irsay in exchange for the Rams. Irsay had purchased the Rams from the estate of the late Dan Reeves. The transaction was completed and announced on July 14. Rosenbloom, "the most successful owner in the NFL over the last two decades, brings with him to Los Angeles Don Klosterman, Rosenbloom's general manager in Baltimore. After five years at Cal State Fullerton Rams move training site to Cal State Long Beach. After 6-7-1 season, all coaches are dismissed. Tom Mack and Coy Bacon are first team All-Pro choices.
1973 LOS ANGELES RAMS An observer in '72, Rosenbloom begins to make changes early in 1973, and they pay off quickly. His choice for head coach, former Detroit assistant Chuck Knox, leads team to 12-2 season, winningest in Rams history, and Knox becomes "Coach of the Year," Roman Gabriel is traded to Philadelphia and the new quarterback, former San Diego Charger John Hadl, is NFC "Player of the Year." Hadl is joined on All-Pro First Team by Harold Jackson, Joe Scibelli, Tom Mack, Jack Youngblood and Isiah Robertson. Rams win NFC West title, but lose in first round of playoffs to Dallas. Other changes introduced by Rosenbloom include return to blue and gold uniforms. Club returns to Cal State Fullerton for summer training.
1974 LOS ANGELES RAMS Carroll Rosenbloom's son, Steve, takes over as Assistant to the President. After 3-2 start. Rams trade John Hadl to Green Bay for five draft choices in bold move that stuns the football world. Hadl's backup, James Harris, becomes starter and leads team to 10-4 record, its second straight NFC Western title and its first playoff victory since 1951 (a 19-10 win over Washington) before the Rams lose to Minnesota, 14-10, in NFC title game. Merlin Olsen wins Bert Bell Trophy as " NFL's" Most Valuable "Player. Tom Mack, Lawrence McCutcheon Jack Youngblood, Fred Dryer, Isiah Robertson and Dave Elmendorf give Rams six All-Pro selections for second straight year.
1975 LOS ANGELES RAMS With defense allowing second fewest points in NFL history over a 14-game season (135), Rams win third straight NFC Western title by completing 12-2 season, Jack Youngblood is named NFC Defensive Player of Year and earns first team All-Pro honors along with Tom Mack and Isiah Robertson. After playoff victory over St. Louis, however, they lose to Dallas in the NFC Championship Game. The 34-8 record over the last three years is best in the NFL.
1976 LOS ANGELES RAMS Rams win NFC West title for fourth straight year with 10-3-1 record then beat Dallas, 14-12, for their first playoff victory on the road before 24-13 NFC title game loss at Minnesota. Quarterback injuries mar season and Rookie Pat Haden becomes fourth different playoff QB in four years under Knox. Rams 351 points is highest in NFC. Jack Youngblood, Isiah Robertson and Monte Jackson are named All-Pro. Merlin Olsen is Invited to a league-record 14th Pro Bowl.
1977 LOS ANGELES RAMS Rams spearhead new Coliseum configuration which reduces capacity from 91,038 to 71,039. With Lawrence McCutcheon setting new club career rushing record of 5,523 yards, the Rams (10-4) roll to their fifth straight division title before 14-7 playoff loss to Minnesota in Coliseum. Isiah Robertson earns NFC Linebacker of Year award for third consecutive season. Larry Brooks and Monte Jackson receive first team All-Pro recognition. Following the campaign Knox resigns to take Buffalo Bills head coaching post.
1978 LOS ANGELES RAMS On Feb. 1, Rosenbloom hires George Allen but releases Allen after second preseason game. Ray Malavasi becomes head coach and leads club to 12-4 mark for their sixth straight division title tying NFL record. Rams beat Minnesota, 34-10, in playoff but lose NFC title to Dallas. Pat Haden earns NFC Player of Year award. Jack Youngblood, Jim Youngblood, Dennis Harrah, Pat Thomas and Frank Corral give Rams five All-Pro players. Rams also announce move to Anaheim Stadium beginning in 1980.
1979 LOS ANGELES RAMS Carroll Rosenbloom dies April 2 and his widow, Georgia, becomes majority owner. Club moves to Rams Park in Anaheirn, where offices and practice facilities are together. Despite multitude of injuries, team wins 7th straight division title to set NFL record, then beats Dallas (21-19) and Tampa Bay (9-0) in NFC Playoffs. Rams lose to Pittsburgh in Super Bowl XIV, 31-19. Defensive line is represented on All-Pro team by Larry Brooks and Jack Youngblood.